Energy Star Partner
Morrissey Engineering's 4940 Building has earned the ENERGY STAR label for buildings, the mark of superior energy performance. This certification recognizes the building as one of the most efficient buildings in the nation.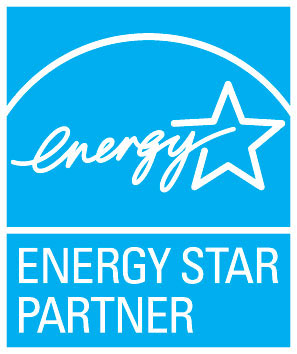 The building incorporates many energy-reducing components that have helped us achieve a 38 percent reduction in CO2 emissions compared to an average building of similar occupancy and geographic location, in addition to an approximate 48 percent savings in utilities compared to an ASHRAE 90.1 baseline building. These energy cutting-measures include renewable energy systems such as solar electric panels, a wind turbine for clean electricity production and geothermal heating and cooling. Additional energy-saving features consist of low-flow plumbing fixtures, daylight harvesting, occupant-sensing lighting control, reflective roofing and parking lot paving materials to reduce heat absorption, the use of recycled building materials and the recycling of rainwater through an on-site pond for irrigation. All energy consumption is monitored closely with advanced metering systems that allow us to ensure peak performance.
Implementation of energy efficiency measures has achieved the following results:
Reduction of CO2 emissions by more than 38 percent.
Use of green power through purchased renewable energy certificates for more than 45 percent of total energy usage.
On-site renewable energy production designed for 10 percent of total energy usage.
A 38 percent reduction of site energy use intensity (EUI) compared to the national average.
Morrissey Engineering's commitment to energy efficiency also has earned it recognition as an ENERGY STAR Partner and ENERGY STAR Service and Product Provider (SPP). ENERGY STAR is a joint program of the U.S. Environmental Protection Agency (EPA) and the U.S. Department of Energy. The ENERGY STAR certification for buildings demonstrates a commitment to energy efficient design and a smaller carbon footprint.