Sustainable Legacy.
Our LEED Platinum Certified building, the 4940 Building, is an homage to our commitment to sustainability and the environment, while simultaneously offering a creative culture. Click here to view the LEED project profile.

The 15,580 square foot building meets some of the highest performance standards possible for energy efficiency and environmentally-friendly practices set by the Leadership in Energy and Environmental Design (LEED) rating system. The building ranks in the top 6 percent of comparable buildings in the country for energy efficiency. As the provider of the mechanical, electrical and technological design services for this building, this certification validates our unique qualifications to provide designs that meet the industry's highest level of operational efficiencies, environmental performance, comfort, and functionality.
Numerous energy-reducing components have helped us achieve a 40 percent reduction in CO2 emissions and an approximate 40 percent savings in utilities. This includes renewable energy systems such as solar electric panels, a wind turbine for clean electricity production and geothermal heating and cooling. Additional energy-saving features consist of low-flow plumbing fixtures, daylight harvesting, occupant-sensing lighting control, reflective roofing and parking lot paving materials to reduce heat absorption, the use of recycled building materials and the recycling of rainwater through an on-site pond for irrigation. All of our energy consumption is monitored closely with advanced metering systems that allow us to ensure peak performance.
The LEED-certified building also features many green amenities that provide conveniences to our employees as well as an aesthetically pleasing work environment that includes a man-made pond with water fountain, skylights and 8-foot tall windows that provide direct views of the outdoors for more than 90 percent of our staff. Other green amenities include recycling stations, bike storage, showers with changing rooms, preferred parking for fuel-efficient vehicles and carpools.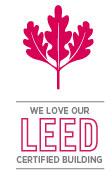 Contributors to this project included Sinclair Hille Architects, who provided conceptual design; Holland Basham Architects, the architect of record; and Meyers Carlisle Leapley Construction Co., the general contractor.
Morrissey Engineering is quickly becoming one of the leading and most progressive LEED engineering firms in the state. We have designed and consulted on numerous LEED buildings and are ready to help you with your LEED project whether it is a new or existing building. Read more about LEED and our LEED consulting services.